Heineken has sold its Russian business for just 86p – with the brewing giant set to face a total loss of £256m as a result.
The Dutch brewing giant, which also makes Amstel and Birra Moretti beers, has been criticised for the slow pace of its exit following the war in Ukraine.
Executives admitted the process "took much longer than we had hoped" and said looking after its local employees was a priority.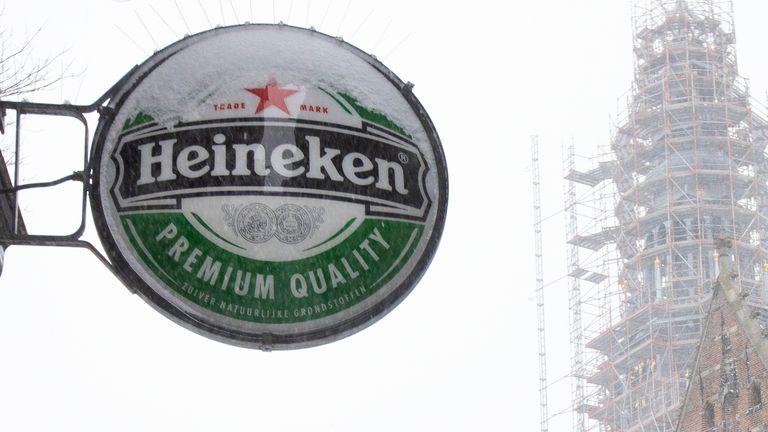 Heineken had initially announced it was quitting Russia in March 2022, and said its business there was "no longer sustainable nor viable in the current environment".
Chief executive Dolf van den Brink said: "Recent developments demonstrate the significant challenges faced by large manufacturing companies in exiting Russia."
The Russian arm's new owner, Arnest, has pledged to guarantee the employment of 1,800 local staff for the next three years.
Arnest Group owns a major can packaging business and is the largest Russian manufacturer of aerosols, as well as selling cosmetics and household goods.
While Heineken-branded beer was pulled from shelves in the country last year, Amstel is still on sale and will only be phased out in the next six months.
Latest Russia news:
Kremlin denies killing Prigozhin – live updates
Putin critics who met untimely deaths
Moment Russian jet crashes near Moscow

Many multinational companies flocked to leave Russia after the West imposed unprecedented sanctions on Moscow – but the Kremlin retaliated by seizing some assets.
Foreign firms trying to head for the exit are facing a big jump in costs as Russia demands bigger discounts on the price tags of the assets they want to sell, according to Reuters.
Last month, President Vladimir Putin signed a decree to take control of a Russian subsidiary operated by Danone, the French yoghurt maker, as well as Carlsberg's stake in a local brewer.
Despite the multimillion-pound loss, Heineken believes the cut-price transaction will have a negligible impact on its full-year outlook.